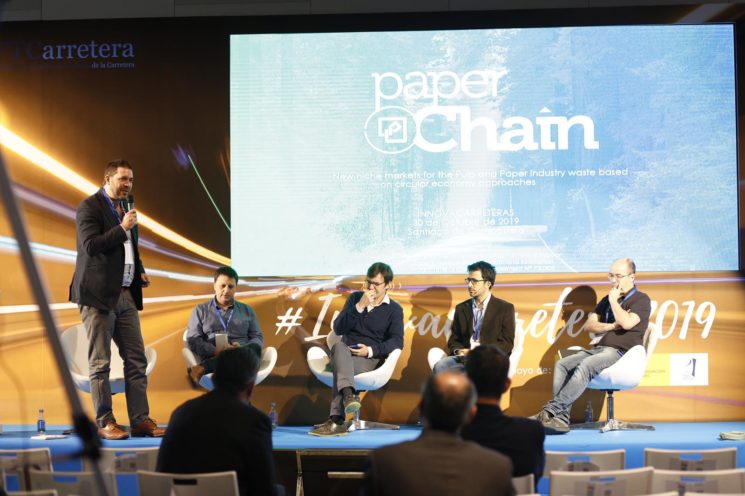 During the 29th, 30th and 31st of October, the two most important events in the Road sector in Spain were held jointly: the 30th Road Week (organised by the Spanish Road Association) and Innovacarretera 2019 (organised by the PTC – Road Technology Platform). This year, the event was held at the Palacio de Congresos in Santiago de Compostela and had 174 registrations for the event.
The paperChain project has participated within a round table framed under the topic of the circular economy, during the technical conferences coordinated by Innovacarretera. This meeting was coordinated and conducted by Carlos Martín-Portugués of ACCIONA Construction. Success stories of SACYR (through its R&D Director, Antonio Ramírez) and European funded projects such as FISSAC (through Asier Oleaga from TECNALIA) and paperChain (through Antonio Cañas from GREENIZE) were presented. The Head of the Road Equipment Service of the Ministry of Public Works (Antonio Pérez Peña) and the Deputy Director of Road Operation of the Directorate General of Mobility Infrastructures of the Generalitat de Catalunya (Albert Gómez) also participated.
This forum has meant the official and sectorial presentation in Spain of the World Prize for the Best Innovation (PIARC) obtained by the article dedicated to the paperChain project, presented in the World Road Congress 2019 in Abu Dhabi.
During the congress, the paperChain project had a permanent exhibition space within ACCIONA's stand, as coordinator of the project, where a general rollup of the project and leaflets of circular cases 1 and 2, directly related to the road sector, were exhibited. In addition, samples of waste from the paper industry were shown, such as white paper ashes  -WPA- from Saica and Grits and Dregs from Navigator. To complete the stand, some specimens developed by ACCIONA for CC2 and specimens of asphalt mixtures from the University of Aveiro corresponding to CC1 were exhibited.
According to data provided by IFATEC, the impact of Innovacarretera 2019 online has reached more than one million users on twitter.
https://www.itafec.com/news/detail/innovacarretera-2019-llega-a-mas-de-un-millon-de-usuarios-en-twitter
Also, half a million users have received information from the 30th Road Week.
https://www.itafec.com/news/detail/la-30-semana-de-la-carretera-llega-a-medio-millon-de-usuarios-en-twitter
Both the presentation of the project, the round table in which it has participated and the parallel exhibition have been very well received by the audience.