EU GREEN WEEK: Virtual Conference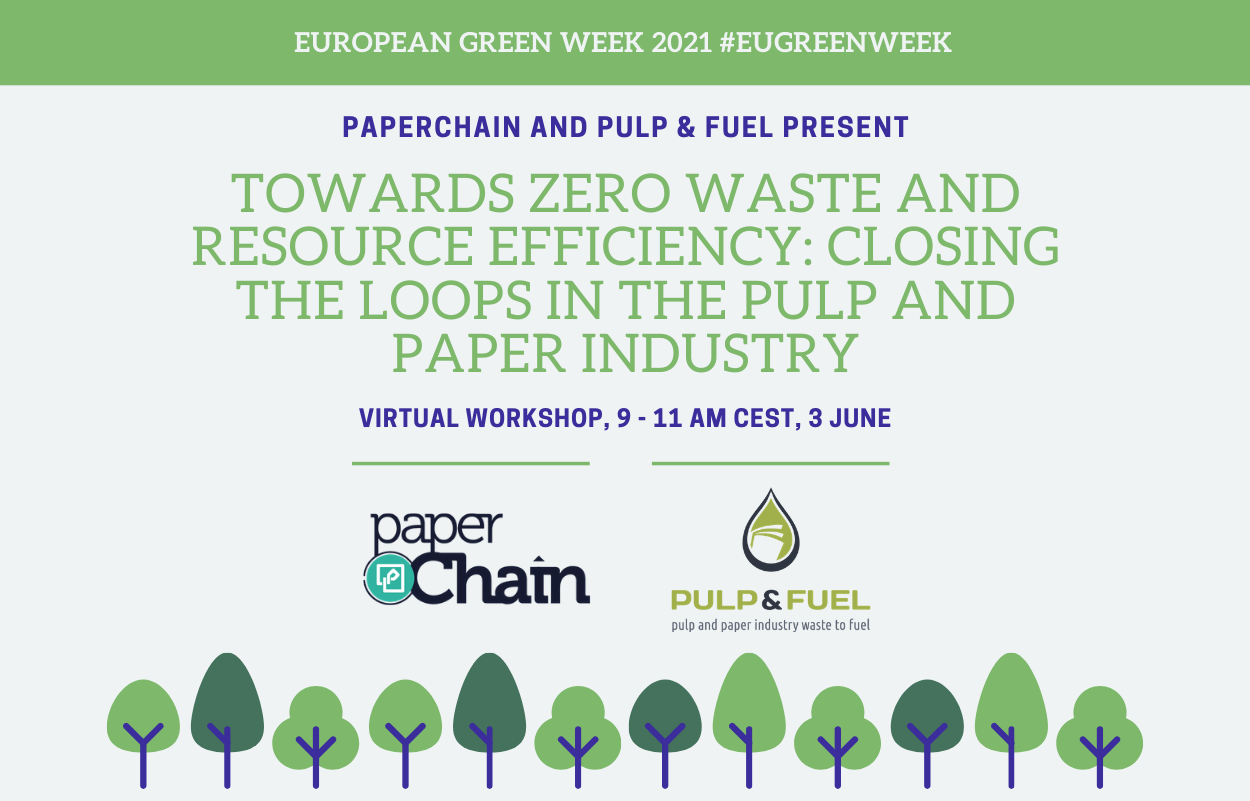 We are delighted to announce a joint workshop on important developments in the pulp industry, organised by the European Union H2020 projects paperChain (https://www.paperchain.eu/) and Pulp&Fuel (http://pulpandfuel.eu/).
This event is organized as a part of EU Green Week 2021 (https://www.eugreenweek.eu/). The workshop will be held on June 3, 09:00 -11:00 CEST.
The workshop will be hosted by Mr. Bernard Lombard, Trade & Industrial Policy Director at CEPI (https://www.cepi.org/) – the European Paper Industry Association.
Summary:
The workshop will focus on how Europe is addressing the challenges to the shift towards a circular economy – in terms of technical innovation, possible opportunities and new potential business models by zooming in on the experience of two European Commission funded projects.
Highlighting the industrial symbiosis between the paper sector and other resource-intensive sectors, both projects will demonstrate the technical, socio-economic and environmental feasibility of using different residues as secondary raw material through real demonstrators through their achieved results.
The workshop will contribute towards a broader perspective and will establish a roadmap for sustainability and competitiveness based on circular economy approaches through paper residues.
This perspective will be extremely useful, both for agents in the paper industry and for industries belonging to other sectors that are looking to incorporate more sustainable raw materials. The aim of this workshop is to highlight the special relevance of the different national and European policies for the development of new circular projects.
Panelists and Moderator:
The event is free of charge, but registration is required via this link (valid until 2nd of June, 2021).
https://us02web.zoom.us/webinar/register/WN_enf_5LJwS6WjtEHXLSz2pg
More information and a complete programme can be found here: link.
https://www.eugreenweek.eu/partner-events/european-paper-industry-competitiveness-improvement-and-reduction-environmental
We are looking forward to exchanging with you on this important subject!