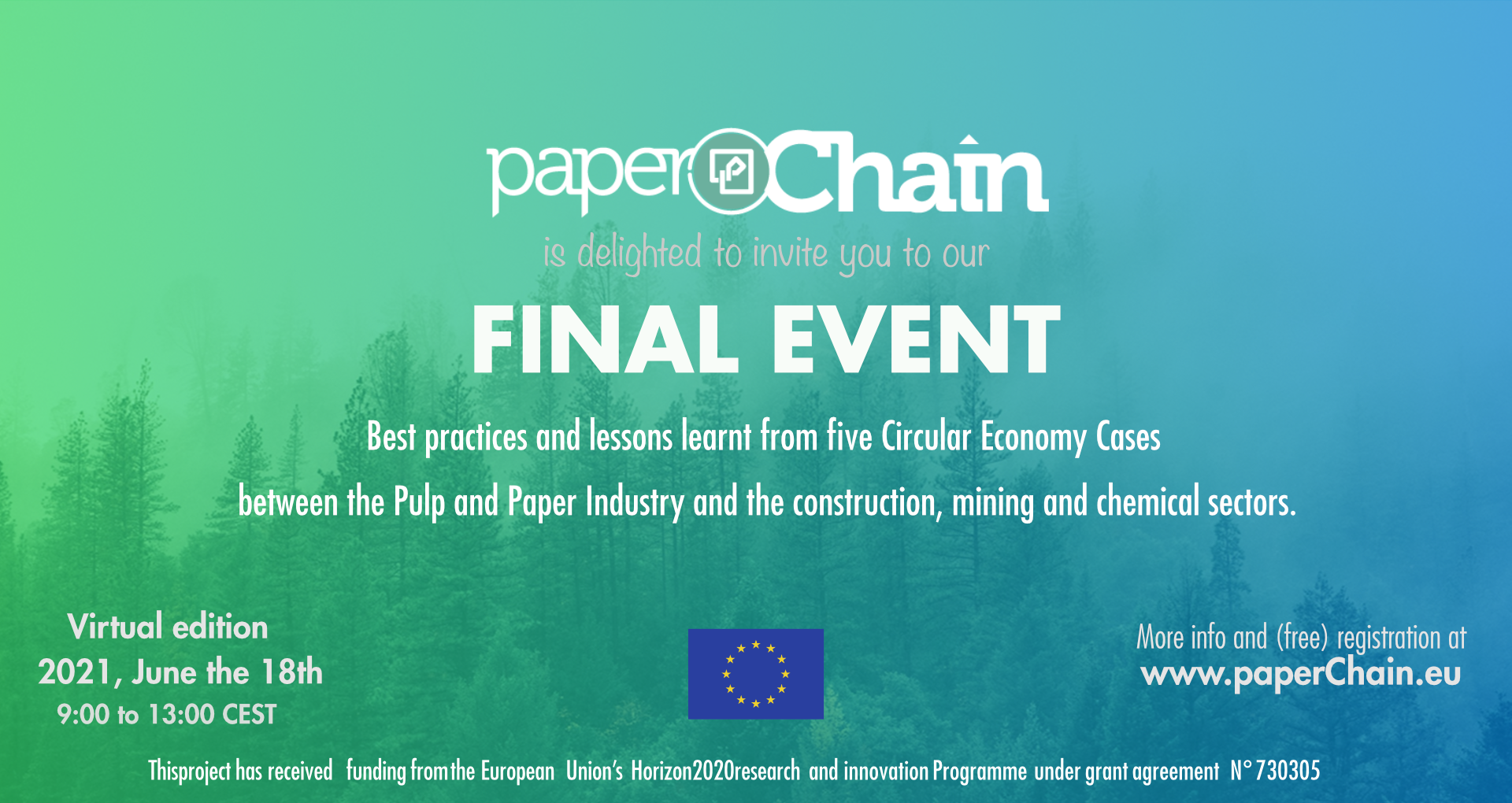 As you may know, our paperChain project www.paperchain.eu has been running for the last four years and in a few months will see its completion.
In this last stage of the project we have already implemented five innovative Circular Cases and we are pleased to share with you our experiences and main results obtained through a Final Event. In such event, the main responsible for each implementation will give a detailed summary of their deployment.
The event will take place next Friday 18th June, from 9:00 to 13:00 CEST.
With great regret and due to the pandemic, we have been forced to do it virtually. For this reason, it will be more difficult for us to convey to you our professional satisfaction and personal enthusiasm for a job well done and a project well executed. The consortium we have formed to develop the project has worked in a very fluent and harmonious way, which has led to the success of the project on many levels.
For all these reasons, we would be delighted to have you at the event and open to any questions you may have during or after the meeting.  
Registration is completely free of charge but requires prior registration through this link:
https://zoom.us/webinar/register/WN_kEe_d4JvRLeN5eARQzXDJg
Do not hesitate to share the link with anyone you consider appropriate.
You will find the programme in a PDF file (ready for download) in this LINK.
Below you will find the full programme of the event.
AGENDA – 2021, June the 18TH 
Best practices and lessons learnt from five innovative Circular Economy Cases between the Pulp and Paper Industry and the construction, mining and chemical sectors.
Friday 18.06.2021. – 9:00 to 13:00 CEST

09.00 – 9.05

Welcome & Introduction

A. Cañas GREENIZE – Anurag Bansal ACCIONA (Moderator)

Introduction, Welcome and tips 

9.05 – 9.20

Objectives of the project (coordinator)

Juan José Cepriá ACCIONA

General presentation of the project, the consortium and the objectives

9.20 – 09.50

CC1:

Road pavement and precast concrete including paper & pulp industrial wastes

Victor Ferreira University of Aveiro

9.50 – 10.20

CC2: Waste paper ash as alternative hydraulic road binder for soil stabilization.

Adriana Martinez Polytechnic University of Catalonia UPC

10.20 – 10.30

Coffee Break

10.30 – 11.00

CC3: MUDIPEL® A brand new composite for slope stabilisation made of paper sludge and deinking paper sludge ash. 

Karmen Fifer Slovenian National Building and Civil Engineering Institute ZAG

11.00 – 11.30

CC4: From fibre rejects to ethanol and chemical derivatives.

David Blomberg The Research Institute of Sweden RISE

11.30 – 12.00

CC5: Green Liquor Dregs as a component in mine covers to prevent Acid Mine Drainage.

Ida Kronsell Luleå University of Technology LTU

12.00 – 12.10

Coffee Break

12:10 – 12:30

Sustainability and Circularity: Two complementary approaches

Javier Ríos GAIKER

12:30 – 12:45

The road to certification 

Karmen Fifer ZAG

12.45 – 13.00

Panel Discussion + Q&A + Main results and next steps 

Anurag Bansal ACCIONA

Juan José Cepriá ACCIONA

Victor Ferreira University of Aveiro

Adriana Martinez Polytechnic University of Catalonia UPC

Karmen Fifer ZAG

David Blomberg The Research Institute of Sweden RISE

Ida Kronsell Luleå University of Technology LTU

13.00

Closing meeting

Juan José Cepriá ACCIONA (coordinator)
AGENDA – 2021, June the 18TH 
INTRODUCTION
Under the claim "New niche markets for the Pulp & Paper Industry Waste based on Circular Economy Approach" a comprehensive and highly interesting eco-innovation action project has been developed over the last 4 years and will be completed by the end of summer 2021.
PaperChain project brings in an industrial symbiosis model centered in the use of different waste streams generated by the European Pulp and Paper Industry, as valuable feedstock for three resource hungry industrial sectors: construction sector, mining sector and the chemical industry.
The consortium is composed by 20 partners from 5 countries (Portugal, Spain, Slovenia, France and Sweden) and it is structured in five large-scale demonstrators (Circular Cases) in different operational environments: Construction in Portugal (asphalt mixtures and concrete in roads), Spain (stabilised-soil layers in roads) and Slovenia (composite materials for slide stabilization in railways); Chemical in Sweden (bio-ethanol for secondary chemicals); and Mining in Sweden (sealing layers for reactive spoil).
The partners along with the supporting parties cover the whole value chain of each local demonstration activity, which includes academia, public authorities, waste generators and end-users. Through this event, the paperChain team wants to disseminate the main results and conclusions of the Circular Cases we have developed.
This project has received funding from the European Union's Horizon 2020 research and innovation Programme under grant agreement N° 730305.
OBJECTIVES of THIS FINAL EVENT
The event aims to disclosure the main results and experiences obtained in each of the Circular Cases developed. In a very interesting final debate, we will discuss how the implementation of each demonstrator has led to a series of lessons learned, including the identification of the main barriers and enablers that will contribute to the successful deployment of circular economy approaches across Europe in the future. This will undoubtedly provide valuable insight to our entire audience.
WHO IS OUR TARGET AUDIENCE?
This event is not only aimed at all stakeholders involved in the paper industry and its entire value chain, but is also of great interest to end-applicators in other sectors that require a large amount of raw material, such as the construction, chemical or mining sectors.
Policy makers will find its conclusions particularly interesting, as they are based on innovation applied at the highest European level.
Last but not least, universities, technology centres, students, consultants and engineering companies will learn from the experiences shared by the paperChain team.
EXPANDED PROGRAMME
Circular Case 1 (CC1) – Using Causticizing Residuals for Asphalt and precast concrete manufacturing. 
Victor Ferreira (University of Aveiro)
The Navigator Company operates several plants in Portugal, where wastes such as dregs, grits and lime mud/ash are generated. Currently, most of this waste is basically disposed to landfill, being the most difficult waste streams to valorise. The paperChain project, thanks to a collaborative research of the Portuguese consortium, has demonstrated their potential to partially replace aggregates in asphalt mixtures (dregs and grits) and fully substitute limestone filler by lime ash in precast concrete beams. This Case illustrates the efforts in pre-treating challenging dregs and grits to produce an profitable secondary raw material and their technical application as well as the technical comparison of concrete made with both, lime ash and mineral filler. Both examples will illustrate waste managers, precasters and asphalt producers on alternative material sourcing.   
Circular Case 2 (CC2) – Waste paper ash as alternative hydraulic road binder for soil stabilization.
Adriana Martinez (Polytechnic University of Catalonia-UPC)
SAICA operates an energy valorisation plant that burns paper sludge produced in four of their paper mills to generate 49 MWhe. As a consequence, 50,000 tonnes of fly and bottom ash are produced every year, being disposed to landfill. Diverse studies demonstrated that fly ashes contained typical cement minerals, lime and could have binding properties. CC2 has characterised the paper waste ash and its ability to replace cement and lime in the three type of stabilised road layers recognised by the Spanish Road Regulation (PG3) through the construction of almost 3 km of field trials . We are showing the construction process, quality control, environmental monitoring and research on durability issues proving the excellent properties of this alternative binder.  
Circular Case 3 (CC3) – MUDIPEL® A brand new composite for slope stabilisation made of paper sludge and deinking paper sludge ash.
Karmen Fifer (Slovenian National Building and Civil Engineering Institute-ZAG)
VIPAP get recycled fibre from recovered paper in the deinking process. As a consequence, three main waste streams are generated: Deinking Paper Sludge (DPS), Wastepaper Fly Ash (WPFA) and Wastepaper Bottom Ash (WPBA), producing annually 25.000 tonnes of ash. Only a small percentage of this amount is used in civil engineering for low grade applications while most of them are still disposed to landfill, incurring in considerable costs. During the last years, ZAG has been researching to find alternative cost-effective materials based on these waste products with a promising result: Mudipel©, an innovative composite made of WPA/DPS combining a considerable strength (2.70 MPa at 28 curing days) and lightness (< 1 t/m3).
PAPERCHAIN has demonstrated the use of this composite as a valuable material for the rehabilitation of landslides. The batter of a gabion wall has been backfilled with MUDIPEL replacing borrow material and reducing the wall section. We are presenting the design, building and extensive monitoring of a landslide stabilisation in Slovenia by means of this technology.
Circular Case 4 (CC4) – From fibre rejects to ethanol and chemical derivatives.
David Blomberg (The Research Institute of Sweden-RISE)
Domsjö Fabriker is a sulphite mill with production of wood based cellulose mainly for the viscose industry. It produces dissolving pulp, ethanol and lignosulfonates. As a result around 20.000 tonnes of fibre sludge waste coming from the primary waste water treatment are yearly generated. Fibre sludge comprises cellulose and hemicellulose as main constituents. These residual sugars obtained from the fibre sludge generated by Domsjö Fabriker have been demonstrated useful to increase the production of ethanol. Likewise, this ethanol can serve as raw material for the local industry SEKAB in the production of ethyl chloride. Finally, this chemical is used by NOURYON to produce a thickener in water based paint and building applications.
The current production of ethyl chloride is rather small and entirely dependent on fossil raw materials. In a nutshell, fibre sludge has been proved to produce high quality ethanol. Then, this ethanol will be used to produce ethyl chloride. Finally, this ethyl chloride will be used to produce Akzo Nobel's product Bermocoll, a paint stabilizer. The presentation will demonstrate this excellent example of industrial sysmbiosis.
Circular Case 5 (CC5) – CC5: Green Liquor Dregs as a component in mine covers to prevent Acid Mine Drainage.
Ida Kronsell (Luleå University of Technology-LTU)
Mining generates huge amounts of waste such as rocks and tailings. The major potential long-term environmental effect of mining is the formation of acid rock drainage (ARD) in sulphide-bearing mine waste, which can last for hundreds or even thousands of years. The common way to deal with ARD from mine waste is to limit water and oxygen infiltration. To limit water and oxygen infiltration, waste rock is covered with borrow materials available on site, normally glacial till in Sweden, which frequently does not possess the best sealing capacities, implying the use of imported bentonite as additive. Meanwhile, GLDs are the largest waste fraction retrieved in the chemical recovery cycle at the sulphate pulp mills. Approximately 240.000 tonnes are landfilled in Sweden each year because their only current relevant application is as diary landfill cover layers. This presentation is showing the possibilities of DREGS to replace bentonite as additive thanks to their high water retention capacity and sealing properties in mine covers. The demonstration includes the performance of a pilot in a Boliden´s mine complex in Sweden.
Sustainability and Circularity: Two complementary approaches
Javier Ríos (GAIKER)
Sustainability and circularity have become popular lately, although compliance with one does not necessarily include the other. Through all the circular cases, both assessments have been performed to to compare the alternative proposed by the project with the existing solutions used in each case. The sustainability impacts of each of the cases have been assessed from a life cycle perspective, using the Life Cycle Sustainability Assessment (LCSA) methodology. To assess the circularity, the Material Circularity Index has been performed. Used in combination, these assessments provide very relevant information on the current and future environmental performance of the adopted solutions. 
This presentation will elaborate on the limits of the system and the allocation of the benefits in terms of impact reductions of each circular case.

The road to certification 
Karmen Fifer (ZAG)
Reaching the market is always complicated for new products based on waste materials due to the lack of confidence and certification is probably the best catalyser to prevent this barrier. In particular, construction materials usually need CE marking to be used. Sometimes, current standards fit with some waste-based materials and CE-marking pathways can be followed; but in other occasions, there are no standards or they do not fit well, requiring different certification approaches through the European Assessment Document process. Moreover, other requirements can be needed, such as the REACH registration of the new substances. This presentation will show the different strategies followed in the Project according to the starting points of the new products.